Dentistry from the Heart
We are proud participants in the national Dentistry From The Heart event, which provides a free day of dentistry. This year marked our fourth year of participation in this annual event. Since we began participating in Dentistry From The Heart, our dentists, staff, and many volunteers have provided over $130,000 in free dental care to those in need. We host our Dentistry From The Heart event in January each year.
Our community has offered us so much, and we welcome opportunities to give back. For more information, we invite you to visit dentistryfromtheheart.org. If you are interested in volunteering or attending next year's event, please visit our Facebook page to keep informed of any event updates.
---
Holy Angels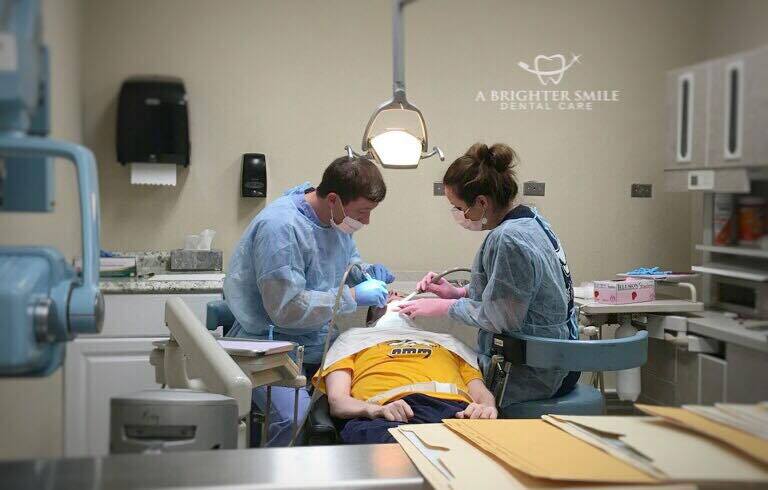 A Brighter Smile Dental Care partners with Holy Angels Residential Facility to provide care for individuals with special needs. Holy Angels is an independent licensed residential training facility that serves clients with intellectual and developmental disabilities. Their ages range from newborns to older adults, and Holy Angels helps them to live in an independent setting integrated with the community and provides medical care to meet their needs.
Together, we provide quality dental care. We have donated dental equipment for their facility worth a total of $166,175, which we use to provide dental care for residents of their facility once a month.
You can learn more about Holy Angels at laholyangels.org.
---
Free From Plaque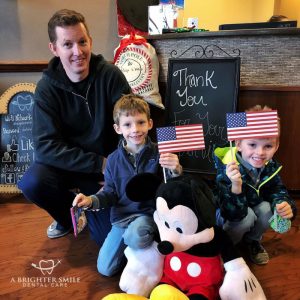 As part of our commitment to give back to our community, military, and the underserved, we are proud to host our annual Free From Plaque event. Every Veterans Day, we perform comprehensive dental cleanings for veterans, free of charge. We feel honored to be able to help these brave men and women maintain the high level of oral health they deserve.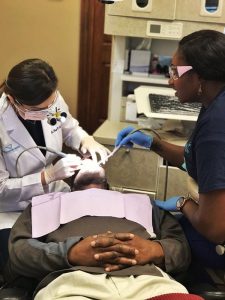 For more information about this event, including locations and times, please contact us or visit our Free from Plaque page.
---
Abounding Smiles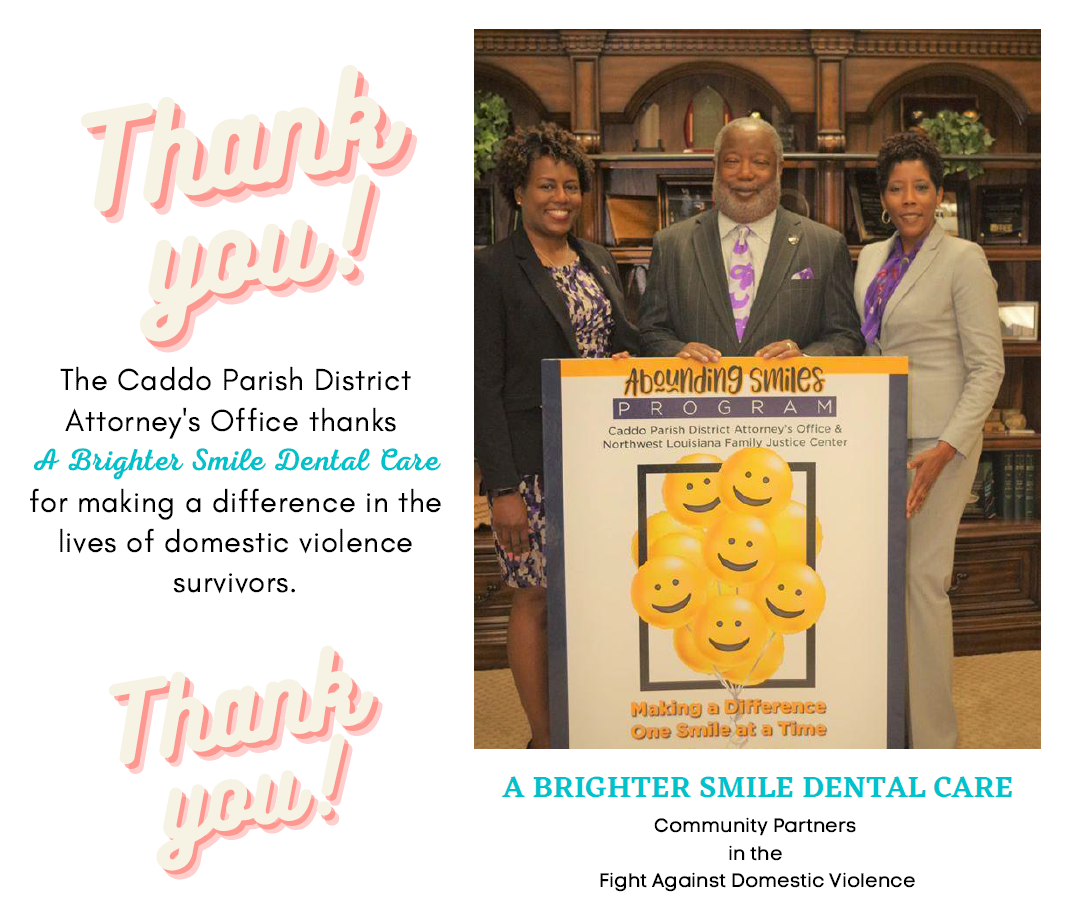 A Brighter Smile is proud to be a partner of Abounding Smiles, making a difference in the lives of survivors one smile at a time. The Northwest Louisiana Family Justice Center and the Caddo & Bossier Parish District Attorney's offices work together to help survivors of domestic violence receive the dental care they need.
If you or someone you know needs help, please visit https://nwlafamilyjusticecenter.org/.
---
Smile Makeovers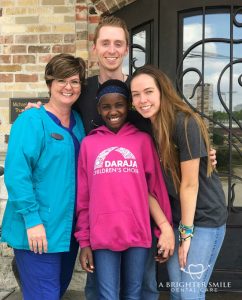 One of our recent smile makeovers was done for Sam, one of the children from the Daraja Choir. When we learned about Sam's dental emergency, we jumped at the opportunity to return a smile to his face. Our team made sure that he was taken care of from start to finish, without incurring any costs. Sam has completely won our hearts with his contagious personality!
We have also been able to help Sylvia, another member of the Daraja Choir. She is as sweet as they come, and we are so happy to have been able to help her achieve the beautiful smile she deserves.
Please contact our office to learn more about our smile makeovers and the Daraja Choir. You can also visit darajachoir.org for more information about the choir.
---
At A Brighter Smile Dental Care, we believe in giving back to our community. We are involved and provide support to many organizations and programs within the community, with the goal of making Shreveport and Bossier better places to live. Our community involvement includes both national and local events. We invite you to email our Marketing Director at marketing@abrightersmiledentalcare.com to learn more about our practice's involvement in the community.