BACK TO SCHOOL
BACKPACK DRIVE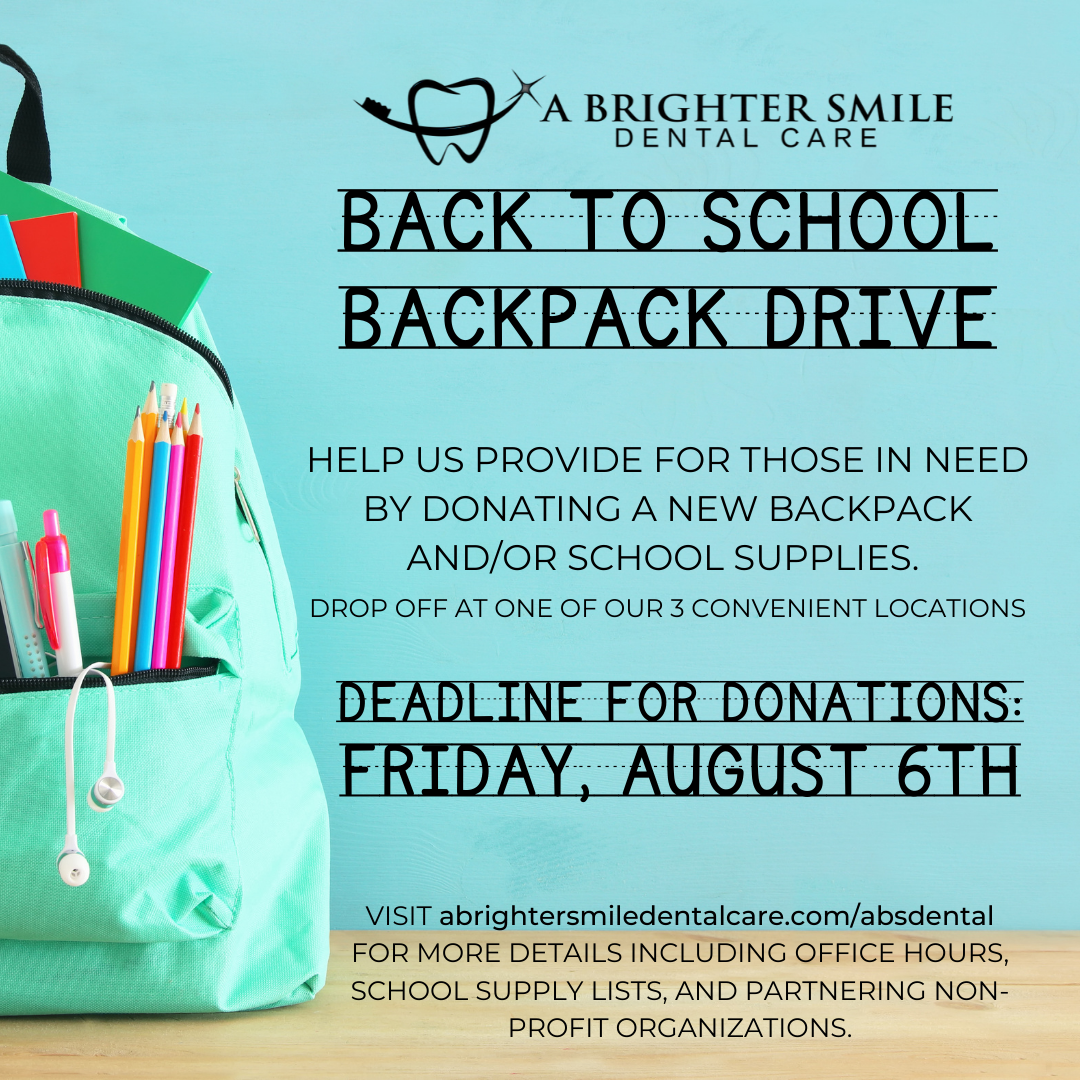 MOST NEEDED:
NEW, UNUSED BACKPACKS
ADDITIONAL ITEMS TO DONATE:

NOTEBOOKS - ALL SIZES AND SUBJECTS
POCKET FOLDERS WITH BRADS
CRAYONS
WOODEN PENCILS
GLUE STICKS
PENCIL POUCH
3X5 INDEX CARDS
COMPOSITION NOTEBOOKS
BINDERS - ALL SIZES
RULERS
ERASERS
HIGHLIGHTERS
HAND SANITIZERS
KLEENEX
AND MORE.


WE HAVE PARTNERED WITH ROY'S KIDS, 501C3, TO DISTRIBUTE THE BACKPACKS TO CHILDREN IN NEED. PLEASE DROP OFF AT ONE OF OUR 3 CONVENIENTLY LOCATED OFFICES DURING NORMAL BUSINESS HOURS. WE HAVE 7AM EARLY MORNING HOURS AND 6PM EVENING HOURS ON SELECT DAYS OF THE WEEK. IF YOU CANNOT DROP OFF DURING NORMAL BUSINESS HOURS, PLEASE EMAIL MARKETING@ABRIGHTERSMILEDENTALCARE.COM TO COORDINATE A PICKUP FOR YOUR CONVENIENCE.
THANK YOU FOR HELPING THOSE IN NEED.