---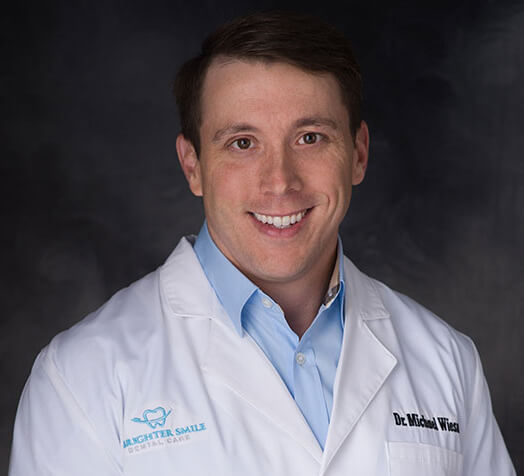 Michael R. Wiesner, DDS
Dr. Wiesner is the founder and CEO of A Brighter Smile Dental Care. He has more than 4,000 personal patients that come from 11 different states, some of which include Virginia, North Dakota, and Minnesota. His practice has received the Top Dentist Award from the prestigious Locals Love Us brand four years in a row.
Dr. Wiesner donates many hours to local community events and has appeared on KTBS, KSLA, and Fox News. Among the charity events he has hosted are Dentistry from the Heart, a day that offers free dental care to the community, and Free from Plaque for Veterans. The Free From Plaque Campaign, which offers free cleanings to veterans on Veteran's Day, is a personal cause of Dr. Wiesner's, since he himself is a veteran of the United States Armed Forces: He has been stationed in Little Rock, Arkansas, and even England.
Post graduation, Dr. Wiesner continues to enhance his dental portfolio by taking extra courses in dental implantology and IV sedation (a method that allows patients to receive extensive dental work while being in a complete state of relaxation or asleep.) Dr. Wiesner maintains an active membership with the American Dental Implant Association and the American Academy of Facial Esthetics. Collectively, he and his team have more than 30 years of experience in the dental field.
---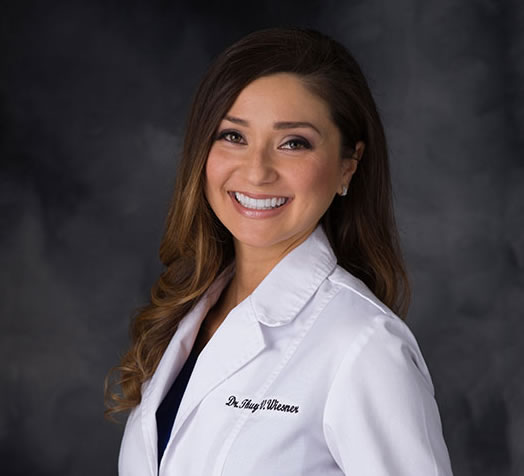 Thuy V. Wiesner, DDS
Dr. Thuy is the co-founder and co-CEO of A Brighter Smile Dental Care. A Brighter Smile Dental Care has seen more than 11,000 patients since Dr. Thuy helped establish it in 2007. The practice has been featured in the Shreveport Times, and patients have come from as far as California, Utah, and Illinois to have work performed by Dr. Thuy. Her role in the practice's orthodontic care won her Premier Provider for Invisalign® status in 2016.
Dr. Thuy is an active contributor to local charities. Some of the charity campaigns she has been an instrumental part of are: the Shreveport Holy Angels Run for individuals with intellectual and developmental disabilities, Pay it Forward, and St. Jude's Fight Against Childhood Cancer. She is an advocate for helping underprivileged children, and collects toys at A Brighter Smile Dental Care every holiday season for the local homeless shelter's children.
Dr. Thuy graduated from the University of New Orleans with her degree in biological sciences, as well as her Doctorate of Dental Surgery. She is a member of the International Association for Orthodontics. Her desire to provide the highest quality of care for her patients is evident in her ongoing education and completion of additional education courses in sleep apnea and orthodontics.
Dr. Wiesner and Dr. Thuy are happily married with two beautiful children. Together, they work side by side to provide excellent dental care to their patients in the Shreveport-Bossier area.
---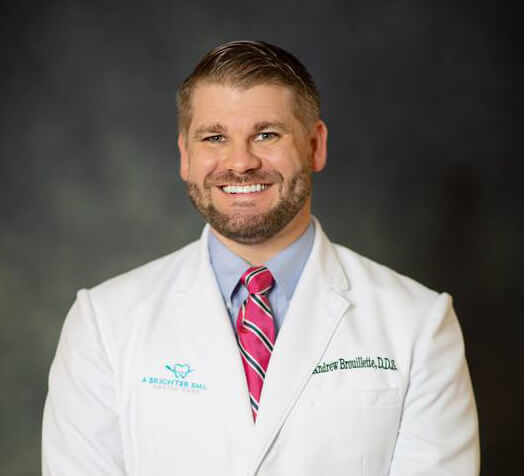 Andrew J. Brouillette, DDS
Dr. Andrew Brouillette works in both the Shreveport and Bossier offices. After graduating from Benton High School, Dr. Brouillette attended LSU Shreveport to continue his education on an academic and athletic baseball scholarship. He furthered his education at Louisiana State University's School of Dentistry, where he received his Doctorate of Dental Surgery.
Dr. Brouillette continues to enhance his dental portfolio and continually stays up-to-date on the most modern techniques and procedures by taking courses in implant dentistry, endodontics, and oral surgery. He maintains an active membership with the American Dental Association and http://www.ladental.org/.
Dr. Brouillette graduated with honors from Louisiana State University Shreveport with a degree in cell and molecular biology. He was the starting catcher for the pilots for four years, earning first team All-American honors in 2009. Dr. Brouillette still holds nearly all school hitting records and most career games played with 238. He was an inaugural inductee to the LSUS Athletic Hall of Fame in 2019. He is happily married to his wife, Jeannie Ruth, who is an ER physician in Bossier City. Together they have two sons, John Ross and Bohman.
Combined with the other doctors, Dr. Brouillette and his team have more than 30 years of experience in the dental field.
---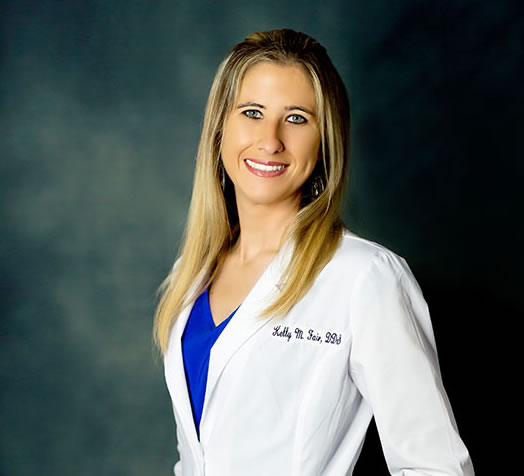 Kelly Milstead Fair, DDS
Dr. Fair was born and raised in Shreveport. She completed her high school education at Caddo Magnet High School where she graduated with honors and proceeded to Louisiana State University Shreveport to work on her degree in biological sciences. With hard work, dedication, and a passion to pursue a career in dentistry, she received early acceptance into dental school at Louisiana State University School of Dentistry in New Orleans where she received her Doctorate of Dental Surgery.
Following graduation, she practiced in the New Orleans area for four years before returning to Shreveport to be closer to family and continue to care for patients in her hometown. Dr. Fair has experience in treating patients of all ages, including children, and she is dedicated to providing them high-quality dental care. She believes in giving them the most comfortable and gentle dental experience possible, and she feels that trust, comfort, communication, and compassion are the keys to a great doctor-patient relationship.
Dr. Fair has received several awards in prosthodontics and operative dentistry as well as the International College of Dentists Leadership Award. She has volunteered with Give Kids a Smile, participated in providing care on free treatment day in the Shreveport community, and traveled with a local church to provide free dental services in Mexico. She is currently a member of the American Dental Association, the http://www.ladental.org/, and the Northwest http://www.ladental.org/.
When she's not in the office, Dr. Fair enjoys spending time with her husband Joel and her eight horses, three dogs, and six cats. Together, Dr. Fair and her husband also love traveling and attending LSU football games.
Dr. Fair is excited to be a part of A Brighter Smile Dental Care and looks forward to helping you take care of your smile!
---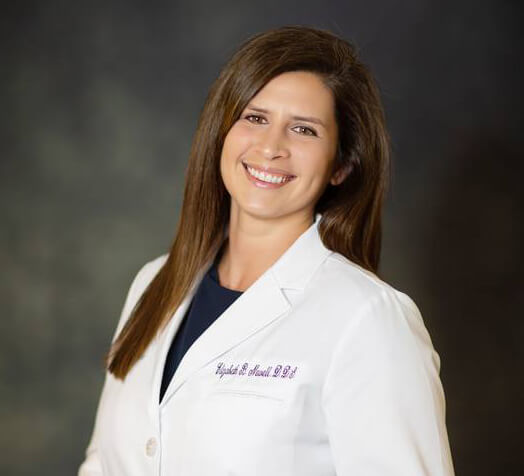 Elizabeth B. Newell, DDS
Dr. Elizabeth Newell works in our South Bossier office. She grew up in South Texas and the Northwest Houston area and graduated from Missouri State University in Springfield with a degree in biology and chemistry. She is happily married Dane Newell, who is a physician for the USAF at Barksdale AFB. Together they have three little girls: Penelope, Norah, and Luna. Some of her passions include tennis and running.
Dr. Newell is always looking forward to grow her scope of dentistry with more advanced training in endodontics as well as prosthodontics. She holds dental licenses in three other states, is bilingual, and has two brothers who are dentists as well. She maintains an active membership in the American Dental Association and the Academy of General Dentistry
---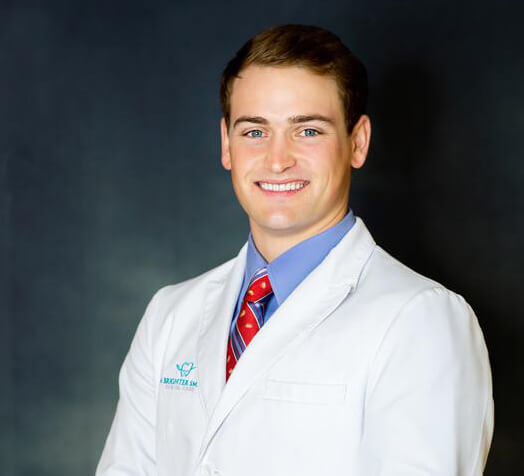 G. William Rolfe, DDS
Dr. William Rolfe, born and raised in Bossier City, is now back in his hometown to help us provide high-quality dental care to our patients in the Shreveport and Bossier offices.
His active involvement in his community and church led him to dentistry starting at age 15, when he went for the first of many times to the Dominican Republic. There, his activity providing healthcare to the less fortunate sparked an interest in dentistry. Ever since, Dr. Rolfe has always cherished the direct impact one may have on somebody's life through dental care.
Dr. Rolfe continues to expand his skill set by participating in various continuing education courses and maintaining active memberships in the Academy of General Dentistry, American Academy of Cosmetic Dentistry, http://www.ladental.org/, and American Dental Association.
Dr. Rolfe also enjoys giving back in his local community with Give Kids a Smile, Super Sealant Saturday, and Louisiana Mission of Mercy. In his free time, he enjoys spending time with family, mountain biking, fishing, and hunting with his younger brother and their dog, Drake. Dr. Rolfe and his experienced team are excited to deliver the exceptional oral healthcare you deserve!
A word from Dr. Rolfe:
"A person's smile and eyes drive their personality, and to be able to have such a direct impact on someone's life by improving their smile and keeping them comfortably chewing through all the good southern food we have down here, that's what inspired me to become a dentist. I love the daily opportunity to sit down with my patients like family, discover their wants and needs, and make sure they always stay happy, healthy, and leave smiling their biggest smile."
---