Our dentists and team at A Brighter Smile Dental Care work hard to stay current on the latest advances in dental technology and techniques. Our state-of-the-art dental equipment allows our team to provide you with custom-made, high-quality dental restorations. Traditional dental technology requires patients to come in to the dental office for at least two visits in order to complete a dental restoration.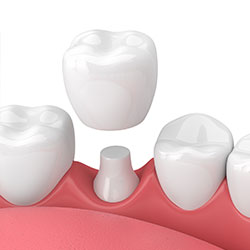 With our advanced E4D machine, however, our dentists can provide you with same-day dental crowns in a single visit to our office! When you come into our office needing a restoration, you can be confident knowing that you will walk out of your appointment with a new, healthy, and restored smile. With E4D one-visit restorations, you will have no need for an uncomfortable, temporary crown, veneers, or other restorations.
E4D one-visit restorations are created from high-quality porcelain that our dentist matches to your natural tooth color, so your restoration will look beautiful and natural for years to come. If you would like to learn more about how our E4D machine makes it possible for you to receive same-day dental crowns and restorations in Shreveport, Bossier, and northwest Louisiana, we invite you to contact us at (318) 688-9330.